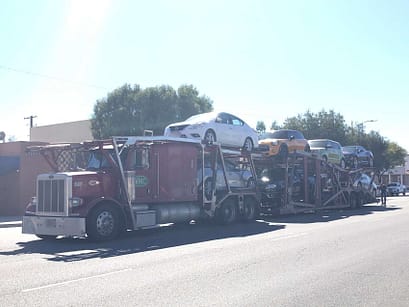 When you're looking to exchange cars between your dealership and another, no service is better than our dealer auto transport. We make the swap quick and easy so that you can operate as usual while keeping your customers satisfied. This is a guaranteed win for both of us. Because when your business is our business, nothing is more important to us than securing your vehicles so that you can keep selling those new or used vehicles to plenty of happy car owners. As always, we're able to deliver your new inventory with discretion and security.
Our Dealer Auto Transport Service
Minneapolis Auto Transport's team has been transporting vehicles nationwide since 2006. Our dealer transport service is prominent in the industry as the gold standard for dealership owners. We have the background to handle any auto shipping scenario that you may need someone to handle. We know what we're talking about when we give you FREE quote estimates on your shipping orders. This is a perk of having leadership that is skilled in the business logistics industry. But the perks go beyond just our expertise.
We choose reliable and kind drivers to bring your dealer purchases right to your dealership. Our drivers are reliable, experienced, and vetted by us to make sure you'll have no complaints about the work we've done. They will repeatedly check restraints, make sure the vehicles are restrained, and bring them to your preferred destination without a scratch. What more could you expect from a company that cares so much about satisfying its customers?
Another one of the many reasons you know you can rely on MAT is our amazing call staff. Live agents during normal business hours are always working to arrange the time, place, and nature of pick-ups and drop-offs for dealers across the country. Yet they will always make time to take on new customers and help them out. We love to see good people taken care of; of course, we believe our customers are the best people!
Why Trust Minneapolis Auto Transport?
Minneapolis Auto Transport also provides a coverage plan in the case of an accident, along with live phone and web support from our dedicated team to help sort out any issues that may arise in transit. We know what we're talking about, what we're doing, and how to take care of our customers so they walk away satisfied with the job we've done.
We provide both enclosed and open vehicle transport for any of your vehicle needs. No matter what needs your vehicle may have, we have a service that will fit them perfectly. We even handle boat dealerships; that's right, our trailers are big enough to handle any job!