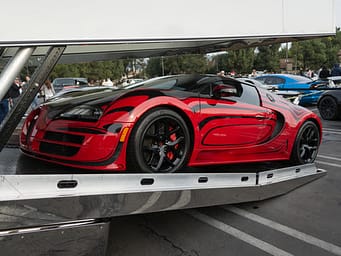 When you work with us to bring your vehicle across the country, you get the VIP experience. We take care of your vehicle every step of the way, making sure it arrives looking just as good as the day you bought it. Our team has over a decade of experience working with each other to make your vehicle's journey safe and smooth. Our enclosed auto shipping service is the best in the business.
Different vehicles have different needs, so it's important for you, who know your vehicle better than anybody, to choose the right service. For many people, that means open transport, but others choose to get that extra layer of protection.
There are three ways we offer absolutely outstanding enclosed car transport for your benefit:
Hard-Side Enclosed Auto Shipping
Hard-side enclosed car carriers are the finest option we offer to keep your vehicle in mint condition. We bring your vehicle onboard using a hydraulic liftgate into a high-end solid container, encasing your car in an impermeable protective shell. Have a vehicle that you need to keep in mint condition? Hard-side enclosed transport is the best way to ensure that it will arrive in perfect condition. Once in place, your vehicle will be safe from inclement weather, road hazards, and unwanted intruders on its cross-country journey. It's scary to have to put your baby in someone else's hands. But our team is experienced and meticulous about keeping your machine safe, sound, and looking just like you remember it.
Soft-Side Enclosed
Soft-side enclosed auto shipping is a more accessible service we offer for high-end vehicles. We have careful drivers who make sure that you don't have to worry as you wait for your vehicle's arrival. Our heavy-duty tarps keep your vehicle from exposure to the elements, as well as letting a new paint job or recently washed vehicle air out more comfortably. And don't worry about any potential security issues; our drivers will check throughout the journey that the tarps and wheels are firmly secured in place, making sure that no unsavory characters are scoping out your vehicle at any time. This is an amazing option if you're delivering a collection of high-end vehicles to wherever you may be; you won't want to miss out on soft-side enclosed auto shipping.
Hot Shot Enclosed
Not interested in messing around with automated loading and unloading? Want the hands-down best service that guarantees your vehicle will arrive without a scratch? Sounds like you're a hot shot. This subset of hard-side enclosed shipping gets the vehicle into the trailer with just the use of a ramp. With a lower maximum load capacity and clearance level, your low-clearance autos will be more than safe and secure. They'll travel in style.
Hot shot enclosed transport also has the added benefit of a very quick loading and unloading process. If you're on a time crunch or simply don't want to wait around while a slow hydraulic system raises or lowers your vehicle, then you'll love how quickly your vehicle gets off of our trailer and back on the road. If you're worried about wear and tear or if you want the best service money can buy, this is the right choice.
How We Prove We're the Best at Enclosed Auto Shipping
With better protection for prized vehicles, we offer only the finest service for your high-end vehicles as they travel across the country. Our professional drivers understand how to take care of your vehicle better than anyone else in the industry. Our transport trucks are state-of-the-art and equipped with only the best trailers. As such, you can be sure your vehicle will enjoy its trip with us. Whether you're sending your vehicle across the entire country or a few hours away, we'll take care of your vehicle. We'll ensure your vehicle arrives looking like the well-oiled machine that you know it to be.