We believe that shipping vehicles on our open auto shipping trailers is the number one way to send any standard car, truck, or van to a new home in the United States. It's certainly the most cost-effective! That's because we restrict pickup to one location to help our drivers hit the road with as many as ten vehicles on a load. You can trust that we'll keep your car secure with our chains, restraints, and locks all the way through. Combine that with excellent rates, and there's no beating us.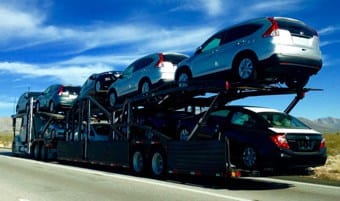 Our open auto shipping team is the best in the business. We'll collect your car and deliver it without issue every time. We guarantee that you won't have to wait long for your car, nor will you need to pay an exorbitant rate. Not to mention, our insurance policies are second to none. You can rest easy as you wait for your vehicle to arrive, knowing that we won't let anything happen to it.
What sets our open auto shipping apart from the average shipping company?
Well, we're full of connections. Across the whole country, from California to Maine and even out to Alaska, you won't find a shipping company with a larger network. We have affiliates all around the country who can help us respond to any challenges that come up. Therefore, you won't have to worry about a single thing on your car's trip; we have you covered.
Our truckers have no problem hightailing it to ensure your vehicles make it on time to the preferred destination. That's standard practice for us. We can even expedite your shipment if you need your car ASAP. On top of that, we do everything we can to give your car a thorough inspection and handle it with care. It's the least we can do as a thank you for letting us take it on the road. Just make sure you clear the car of any valuables, drive it to the right place, and then relax. Our team of experts is more than ready to help you out.